How to Jumpstart Your Exit & Succession Plan (For Business Owners)
At CIP, we add business owners to the list of heroes along with health care workers, teachers, and first responders during the pandemic. It'll be 3 years in a couple of quarters and hopefully, you've survived, maybe even thrived during these VUCA (Volatile-Uncertain-Chaotic-Ambiguous) times with incredible grit, perseverance, and creativity. Communities and families have also survived because of the jobs and benefits you provide. 
Unless it's your busy season, let's take a timeout to focus on one of the most important, but not urgent, projects you need to get some clarity and momentum on. It's your business succession and exit, the game plan that'll convert your illiquid business assets into liquidity or income when it's time to move on and do the same for your family if you can't cross that threshold.                          
Living the Dream or On a Prayer
The 80/20 Rule is definitely in evidence when it comes to exit and succession planning. Permit me to do some rounding while you consider the following: 
80% or more business owners need to convert the value of their business to retire at their current quality of life

80% of business owners want to retire within the next 10 years

80% of business owners over-value what they think their business is worth

80% of business owners underestimate what it will take to design/execute a plan

80% or more companies are never sold (typically at a discount if they are)

20% or fewer business owners have an up-to-date exit and succession plan
How could something so important be so overlooked? Simple, human nature, compounded by the fact that entrepreneurs and business owners are a special breed. By and large, you are dreamers (and grinders) but I bet most of you have risen to your unique level of success by creatively rising to challenges when needed. Your current strengths, however, are different than the skill set required to strategically build sellable value (a business that runs well without you is the most valuable) over time in a highly competitive marketplace. In addition, transition issues can be personally confronting and/or involve awkward conversations with other owners, family members, or outsiders, while also demanding a high level of confidentiality.  
There are two other inter-connected reasons why this gap between financial importance and execution is so wide. First, the process is not easy, fast, or straightforward…and it's non-urgent, not a good combination. Second, it's nobody's direct responsibility so it's like the infield pop-up in baseball that nobody fields because they assume someone else is taking care of it. Whether it's senior management or a team of advisors, most don't do this on a regular basis or get paid to do it. Therefore, business owners must take on the role of Chief Succession Officer and determine how to achieve the best results with the right team of inside and external confidants. 
Getting off to a Good Start
Whether you are starting from scratch or updating prior plans, please consider the following techniques to spark this vital project to completion with one or more of these accelerators: 
Make a (Mind) Map

– today's easy-to-use software tools allow you to efficiently organize your thoughts and documents, connect the dots and take action right from your laptop or iPad.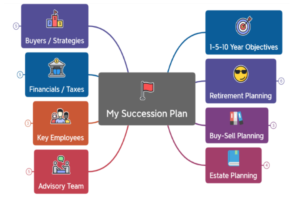 You can make these mind maps as simple or complex as you like. I appreciate the fact that you can view the key components of a plan on a single screen or page (see graphic above) but also drill down with sub-topics, link important websites, or attach excel spreadsheets when you need to go deeper. 
"Unpack Yourself" Interview –

if you are more of a yellow pad person or journal writer, escape the madding crowd and ask yourself some important questions…and keep writing in a brainstorming, free-flow style. We have a page of important questions if you are interested but here are a few to get started with. Don't worry if you don't know the answers just yet as they will emerge as you move forward. (1) How much longer do you want to keep going, really? (2) If someone walked up to you today, checkbook in hand, what would you be willing to sell your business for?  (3) Is that reasonable or might the marketplace cut that in half? (3) What kind of product, service, staff, or operational changes could boost the sellable value? (4) How much after-tax liquidity or income do you need to add to your non-business financial resources to maintain your quality-of-life post-sale? (5) Who are your key people and are you vulnerable to losing them? (6) Is this more likely to be an internal or external sale? (7) Do you have any suppliers or competitors that might be interested? (8) Which trusted shareholders, key people, family members, friends, and advisors are in the inner circle? (9) Who do you need to worry about? (10) Are there any tax-efficient strategies to shift money from your company to your personal balance sheet? (11) If we were meeting 3 years from today, what needs to happen, in your business and personal life, for you to be pleased with your progress? 

 

Make a $10,000 Call –

set up a confidential lunch with a trusted CPA, attorney, financial advisor, friend, or relative that's been through this and can share their "in the trenches" experiences. Gaining insights into what you must do and not do can save you an extraordinary amount of time, money, and energy. Learning to avoid the mistakes of others (like banking on a single buyer too early in the process) can be invaluable.

                             

 
A Strategic Work in Progress
In future blog posts, we'll take a deeper dive into specific topics as well as interview legal, tax, and deal-making experts to accelerate your path on the learning curve.

Your level of time involvement and intensity will depend on how far out you are from selling all or part of your business interest(s). And if you are a Baby Boomer, well, this post was written so you could get jumpstarted later today.
Final Thoughts
This is a non-linear, dynamic process that is emotional and relational as much as it is financial. Everyone has their own agenda and you'll be a part-time orchestra conductor bringing out the best everyone has to offer. But it's best to start with knowing what you really want/need AND cultivating new interests while you get to work on increasing the sellable value of your business interest. There is no shortage of stories about entrepreneurs who deal with a business version of postpartum depression after very successful financial results. 
The goal of this post is to help you understand why most business owners lag behind in their exit and succession planning and why you must also persist to reach the goal line. It is a challenging but doable process once you own it, define your objectives and strategically lead your internal and external team to a successful outcome.  
Like him or consider him a traitor, Tom Brady personifies the struggle and opportunity that comes with exit and succession planning. He certainly didn't end the football season the way he wanted to and his retirement/un-retirement fiasco didn't help his brand or the Tampa Bay Buccaneers plan for the future. Now he's back playing but has signed a 10-year, $375 million sportscasting deal with Fox Sports after he finally retires, whenever that is. TB12 is right, we need to defy our age, come back from adversity, continue to improve and #Keep Going!